Foreign direct investment (FDI) is becoming increasingly crucial source for developing countries Economic Growth
Importance of foreign investment
Foreign direct investment (FDI) is becoming increasingly crucial source for developing countries Economic Growth. Foreign direct investment benefits the global economy, as well as investors and recipients. Companies involving the foreign direct investment create jobs, pay taxes, and increasing countries reserves of foreign currency. More subtly, they improve countries use of better technologies, spread their knowledge, and hire local firms to supply them.
In 2015, world FDI rose 38 percent to $1.76 trillion and it means that there is a high level of interest in foreign direct investment. It provides well-run businesses, regardless of race, color or creed, a competitive advantage.
Iran and foreign investment
Iran as a country with great potential of development welcomes foreign investors to cooperate in different sectors such as Tourism, Petrochemical industries, renewable energy and etc. The recent Joint Comprehensive Plan Of action between
Iran, Russia, Europe and Britain and USA permitted Iran to trade with countries and develop its Auto, Air Craft and Energy Sectors. Companies like Total, Siemens and Airbus invested in Iran for the last three years. However, The Trump Administration have decided to remove itself from these action plan which have forced the other countries to leave this agreement. As a result, mentioned countries have cut off their operations with Iran. But, Countries like China, Russia and Turkey are still interested in doing business with Iran under some specific Conditions.
Despite of the recent imposed sanctions on Iran, economists looks forward to enhance its industries by providing incentives to attract more experts and foreign investment. For Instance, Government plan to rise GDP through increasing exports by making and adopting domestic products under the international standards and aiming to become a member of world trade organization. Moreover, providing investors with higher sovereignty will be another great opportunity in comparison with other countries for foreign investors to invest in Iran. Furthermore, aspects such as lower energy price, cheaper facilities, infrastructures, lower salaries and lower domestic exchange rate can make doing business in Iran easier and more profitable than any other places. The detailed information about investment in Iran is provided in two sections as Investment Guidance and Incentives of Investment.
Advantages of Investing in Iran
Favorable geographic location of Iran as the junction of Middle East, Europe and Asia.
Having huge number of 70 million population.
Having efficient, trained and smart workforce.
Modern infrastructure of railroads, energy and telecommunications.
Huge amount of natural, fossils and renewable energies.
Suitable climate conditions.
All foreign (non-Iranian) natural and legal persons can register companies in Iran and own 100% of such company's shares and can also establish partnership with Iranian nationals with any share ratio and register their companies.
Foreign companies with legal licenses in their origin are allowed to register a branch or run a business in Iran.
They can participate in different businesses according to regulations of Islamic republic of Iran as following:
Providing customer services
Executing Professional operations by signing the contracts with Iranian business partners
Analyzing and Examining the environment of investment in Iran
Joint with Iranian partners to work in another country
Increase non- petroleum products exports.
Transporting Technical science and technology to Iran.
To get any licenses, the investors must apply for the specific organization; for instance to get transportation licenses, investor must apply for Ministry of transportation to get the licenses.
Foreign company's branch is the legal company on behalf of the original company that provide the same services and conducting the same duties in Iran.
Foreign companies and interested investors need to prepare the following information to apply for a company's registration:
Articles of association, signed by all shareholders
Declaration stating that all shares have been subscribed
Minutes of the general assembly of founders and board of directors
Minutes of the shareholders' meeting, reflecting the election of the first directors and inspector(s)
Written statement accepting the position of directorship and inspectorship
National ID Card of the shareholders and inspectors
Name of a mass circulation newspaper in which all company announcements will be published
Obtain a criminal record clearance for all Company Directors at the Police
Place a notice of the Company formation in the official gazette
Notify the state Tax affairs organization of the commencement of business
once notification done, an office address is required
Foreign investment promotion and protection act
Foreign Investment licensing in Iran is achievable for all investors but such advantages can be obtained to foreign investors who obtain the investment licensing through granting FIPPA coverage (Foreign Investment promotion and protection Act).
Investment licensing procedure:
1) Filling the application form
2) Issuing licensee, primary agreement
3) Submission of documents to the OIETAI
4) Collecting foreign investor background information
5) Listing of the imported materials
6) Adding additional information about the foreign investor shares

Different types of Companies Registration
1) Joint venture
2) Limited Liability Company
3) General Partnership
4) Limited Partnership
5) Proportional Liability partnership
6) Production and consumption Corporation
Incentives of investing in Iran
Unlimited volume and percentage on foreign investment participation.
Registration of the Iranian Company with 100% foreign capital
Advantages of investing in Iran by an Iranian Partner living abroad
Allowing investing in all areas of private sector
Issuance of a 3 year residence permission for the foreign partners and its family members.
Tax exemptions
Taxable income are expected to last for 20 years for a knowledge based institutions working on development projects, commercialization and knowledge-based services.
Foreign companies can benefit from 50% of tax reduction in case of offering services using domestic production.
100% of the income derived by cooperative companies formed by villagers, farmers and students and workers are free.
Manufacturing tax exemptions
5 years tax exemptions for investment in Hotels and service sectors.
7 years tax exemptions for investment in industries, mining and free zones economic.
10 years tax exemptions for investment of hotels in less developed areas.
Corporate Income Tax
Having fixed corporate income tax at a flat rate of 25%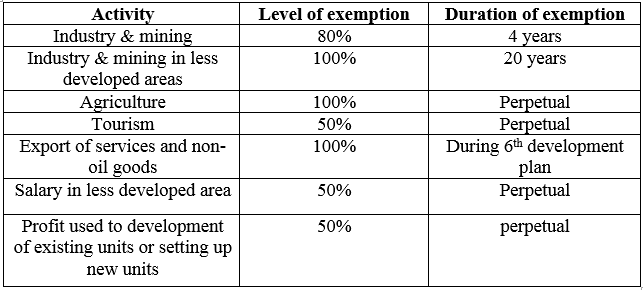 Advantages of investment in trade-industrial free zones
20 years tax exemptions from the date of operation for all economic activities.
Allowance of flow of profit and capital
Foreign investment protection and guarantees
Facilitating regulation on labor regulations, employment and social security
Transferring of part manufactured goods to the mainland without paying custom duties.
Cutting out of paying custom duties on import from outside to the region and vice versa.
Engaging trained and skilled manpower in all different skill levels and professions.
Application of raw materials, oil and gas as feedstock and fuel for all industrial activities.
The outline of the Trade-industrial Free Zones of the Islamic Republic of Iran:
Qeshm Trade-Industrial Zones
Chabahar Trade-Industrial Zones
Aras Trade-Industrial Free Zones
Anzali Trade-Industrial Free Zones
Arvand Trade- Industrial Free Zones
Kish Trade-Industrial Free Zones
Maku Trade –Industrial Free Zones